History repeats itself with the Z06 Corvette!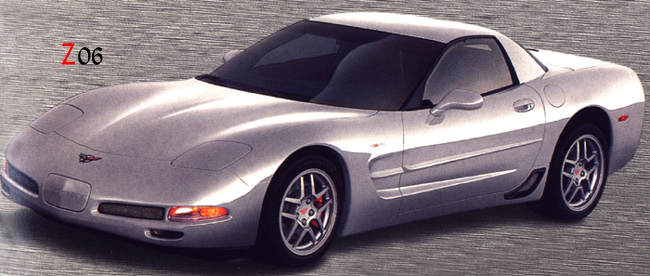 The Z06 is the latest Corvette to inherit a revered name from one of its distant ancestors. The ZR1, LT1, and Grandsport names having previously been revived to adorn late model super-Corvettes.

These significant names are not to be taken lightly. Chevrolet go to great lengths to ensure the new model is worthy of the name. The new Z06 is no exception.

The original Z06 was introduced in 1963 and featured 327 cubic inch fuel-injected engine, special suspension and brakes, and a 36 gallon fuel tank for endurance.

This new reincarnation of a famous name is billed by Chevrolet as "The quickest and most agile Corvette ever!" and with good reason.

Under the hood is a strengthened LS-6 engine, itself named after the legendary big-block of musclecar days. Initial Z06 variants featured an increase in power from the then standard output of 345 bhp to 375 bhp, which was coincidentally (?) the same output offerred by the first ZR1s! But now the fast-revving, deep-breathing, LS-6 offers an amazing 405 bhp - this figure being the same amount of power offerred by late ZR1s - perhaps the Z06 engineers had a goal in mind and a reputation to live up to!

The LS-1 in the standard Corvette becomes the LS-6 with attention and improvements to the cylinder heads, camshaft, MAF sensor, and block modifications.

Combine the 405 BHP LS-6 with the Z06's reduced bodyweight and you have a sports car that is good for 0-60 times of 3.9 seconds, mid-12 second quarter-miles, awesome top speed and incredible response and handling.

Inside there's new instrumentation with a 200 MPH speedometer and optional Torch Red/Black leather seats.

Externally the Z06 is distinguishable by its distinctive alloy wheels, front mesh grilles, brake cooling vents and Z06 badges.

The engine is fitted with distinctive red engine covers.

The Z06 variant gains even more performance and agility over the standard Corvette with reduced overall weight and to this end even features a new titanium exhaust system. How exotic can you get!

A stronger, tighter, more controlled suspension is also a feature, helping to increase the Z06 performance advantage further still.

The Z06 option is only available at present on the fixed-roof hardtop coupe, with 6-speed manual transmission.
For more on the Z06 visit the C5 registry!